Orlando
customers call and ask us what is the best pipe to use when you
repipe
your home. Many are confused and think copper piping is to be used for repiping of their home. Without being an 
Orlando plumber
, you as the consumer do not know the best pipe to use and that is why I decided to write this to better help our customers.
Reasons why we don't repipe in copper:
Cost and damage, the cost in labor and the cost for the amount of holes needed to be cut in order to install and sweat the copper is a lot higher than plastic piping. With the cost of copper skyrocketing it is also very expensive.
The longevity of the product, copper piping does not last with the harsh Orlando Florida water. It is very corrosive and many times this is the main reason for your Orlando re-pipe in the first place.
Overall, copper piping is not a good choice for a repipe. Plastic piping: there are two types of plastic pipe used in the Orlando area. The first is Pex and the second is CPVC. If your home was piped in CPVC, it is an ok pipe but there are some issues with the pipe getting brittle from the high levels of chorine in our water. We prefer Pex piping it has a better warranty opposed to CPVC. The Pex piping carries a 25 year warranty were CPVC is only 10 years.
Reasons to use Pex piping.
Pex is by far the superior pipe for replumbing your home. It does not react to the harsh water in Orlando
It is flexible so your fitting count is way less which helps on water flow.
The ease of installation the labor is less intense and you don't have to cut as many holes because of the flexibility, therefore it also cuts down on the damage to your home.
If you need a Plumbing repipe in the Orlando Central Florida area, please give us a call at
407-490-1230
. We can also answer any of your concerns with your Orlando repipe.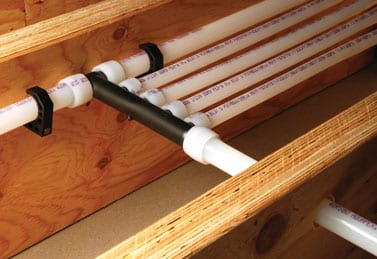 We also serve Casselberry, Altamonte Springs, 

Lake Mary

, Longwood, Apopka, Maitland, Deltona, Winter Park, Oviedo, Sanford, Winter Springs,  and all of 

Central Florida

.

We have many