An escutcheon (pronounced 'ess-kutch-on') is the metal bit that hides the hole in the wall that your plumbing pipes through. They can also be called cover plates or flanges as well. Where are some of the places you can find an escutcheon in your home? They can be found in many places in your home, such as around your shower arm (where your shower head attaches too), around pipes for your water heater, under your sinks where your drain and water lines come through the wall, and under your toilet where you shut off your toilet. What is the point of replacing them if they perform no other task aside from looks? Well, if they're meant to be decorative and cover ugly holes, but instead are rusty or missing, they are not serving their purpose.
Escutcheons come in many different sizes and shapes. They also come in many different finishes. They are also not too hard to replace. So, there is no reason to look at a rusty escutcheon when you can neaten up your room and get rid of that rusty, old piece of metal. 
To replace the common ones that get rusty, such as around the shower arm, unscrew the shower head and slide the old one off and the new one on. Then, put the shower head back on. It's as simple as that! Some of the harder ones are the ones around valves; like under your sinks and toilet. Those can be removed by cutting them off with snips. Then, we suggest going back with white plastic escutcheon (Because of humidity in the Orlando, FL area) because you can cut it at an angle and pop it around the pipe then spin the cut to the bottom of the valve so you can't see them. We suggest plastic because it does not rust. If you want something more fancy, they do sell split ring escutcheons with chrome or any other finish. To install these you just open and snap it over the pipe. If you have any trouble, call Drain Genie Plumbing Services in Orlando at 407-490-1230, Lake Mary 407-519-1020.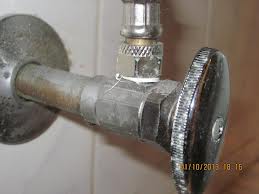 We also service Longwood, Lake Mary, Winter Park, Casselberry, Orlando, Apopka, Maitland, Deltona, Altamonte Springs, Oviedo, Sanford, Winter Springs, Deland, Daytona Beach and all of Central Florida.