Water is used in our homes everyday and is a necessity to our lives. If you have a leaking pipe water can be very destructive.Water leaks can potentially damage the structure of the home and your personal belongings. Plumbing leaks can be very common. These types of leaks can include leaking toilet, sink or pipes. If you own a home eventually you will most likely have a plumbing leak. Sometimes leaks can be in obvious places sometimes not so obvious. Every person that owns a home should know the basics of how to find water leaks.
Check Your Water Meter  If you think you have a water leak first thing you should do is check meter. Make sure you or anyone else is not using water also don't run dishwasher or laundry. Look at meter dial and check it in 30 min if the meter moved and you haven't used any water then you have a leak somewhere. If you notice the meter moving and want to determine if the leak is outside or inside the home shut the water valve off at the home. If the meter stops spinning the leak is under the home.
 Water Bill.  Pay attention to your water bill. Most water bills will stay some what consistent. If you notice a spike in your water bill this is a good indicator that you may have a plumbing leak.
Check Toilets  Check your toilets a running toilet can waste a lot of water. Sometimes you can hear the toilet constantly filling sometimes not. If you don't hear your toilet running it is still a good idea to test the toilet for leaks and rule it out. Therefore you can do this with a dye test. For instance just add some red dye to the back of the tank. Come back in a hour. If the bowl is red your toilet is leaking.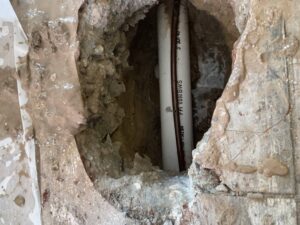 in conclusion it is always good for homeowners to know the basics on diagnosing plumbing leaks. If you have a plumbing leak and need a plumber call  us in Orlando 407-490-1230 or in Sanford call 407-393-0718. We also service Longwood, Lake Mary, Winter Park, Casselberry, Orlando, Apopka, Maitland, Deltona, Altamonte Springs, Oviedo, Sanford, Winter Springs, Deland, Daytona Beach and all of Central Florida.