We get at least 2-3 calls per day with customers asking about French Drains and if we install them. In the Orlando Florida area we have many areas where the ground is very saturated due to high water tables. When we get our afternoon rain it can often cause flooding in grassy areas. This can be quite aggravating in our backyards and cause insect infestation. French drains are the best solution to this problem. A French Drain is usually a black corrugated pipe that has holes in it with fabric wrapped around the pipe. It can also be installed with area drains that exit or drain into a low area in the yard or out onto the street. It is installed underground and the pipe itself is surrounded by rock as this allows the water to enter the pipe without the dirt clogging the holes in the pipe. 
So, the big question is…who does this work? Best answer is landscaping companies. Not people that cut lawns but companies that design landscape. They are set up to install these type of drains. French drains, when done right, work great but they are very time consuming and require heavy equipment and can be quite messy when installing them. Landscape companies are better suited to do this work. There needs to be rock that is ordered, excavating and then sod installed at the end which is why most Orlando plumbers are not set up for this type of work.
So if you have yard drainage issues call a landscaper to get your estimates because most Orlando plumbers will not install these type of drainage systems. If you have any questions or plumbing needs give Drain Genie Plumbing Services a call at in Orlando 407-490-1230 or in Sanford 407-393-0718.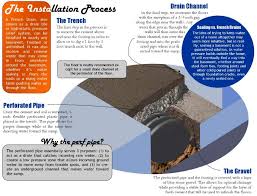 We also service Longwood, Lake Mary, Winter Park, Casselberry, Orlando, Apopka, Maitland, Deltona, Altamonte Springs, Oviedo, Sanford, Winter Springs, Deland, Daytona Beach and all of Central Florida.