Have you had a repipe in your Orlando home? Many times having a repipe is the way to go if you have a plumbing leak in your home. If your home is older and you have copper or if you have polybutylene, a repipe is the best plan of action for a homeowner. It will provide years of worry-free use if installed properly and protected. In a repipe job, we abandon the existing underground pipes and rerun new pipes up through the attic.  We have seen many plumbing issues over the years and most are improper installation, but the most common problem is pests. We have seen a lot of leaks on repipes in the attic and almost all are caused by rodents, whether it's squirrels or rats. Many customers call to complain that they just had a repipe and they now have another leak and upon inspection it is almost always pipes chewed by rats. If you have had or are planning to hire an Orlando plumbing company to do a repipe, check your attic or hire a exterminator to make sure you don't have a rodent issue and seal off all open penetrations to the attic from the outside. This could save you hundreds in repairs and thousands in damage. We have seen minor damage with only one small hole to major damage requiring the whole attic to be repiped again. If you seal your attic or hire a exterminator this will eliminate this issue.
Another problem with a repipe is hot water on the cold side.  Being in Florida, it is hot pretty much year round and attics tend to get hot even in the winter.  Many customers think there is something wrong but this is a normal issue with repipes. You have to run water for a short period of time to disperse the hot standing water; it just takes time to get to the faucets. Many plumbing companies will charge extra to insulate this only will lower the temperature slightly and is not worth the extra cost. Most of the time this is not a big issue and customers just get used to it. If you need a repipe or a plumber call Drain Genie Plumbing Services at 407-490-1230.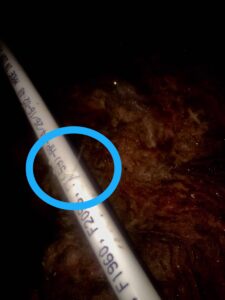 We also service Longwood, Lake Mary, Winter Park, Casselberry, Orlando, Apopka, Maitland, Deltona, Altamonte Springs, Oviedo, Sanford, Winter Springs, Deland, Daytona Beach and all of Central Florida.