Have a plumbing issue first thought is usually to call the insurance company. This is not always the best case. In this blog we will discuss when and when not to get your insurance company involved. Once determination is a plumbing leak exists it is a good idea to call a plumber. Find out the damage extent and the actual plumbing repairs and cost involved. 
When not to get insurance involved. 
Once finding out the damage and cost to make plumbing repairs find out what your deductible is. If there is a $500.00 deductible and repairs or damage are less then that or even a little more its really not beneficial to make an insurance claim. Also it depends where the plumbing repair is and whats affected. For example if the plumbing repair is going to cost a lot to repair and the issue is outside the home the insurance company most likely will not pay for repairs but if it is inside and caused damage they will.
When to get insurance involved. Anytime there is property damage exceeding your deductible it is worth filing a claim. I suggest to make sure it is a good amount over deductible. Because if its only a small amount its not worth it. They tend not to pay for plumbing repairs themselves. But they do cover damage to property. They also cover leak detection and time to access leak.If the leak is in the home and causes water damage that will be covered that as well. As far as the plumbing repairs make sure your Orlando plumber itemizes the bill for the insurance company.
For example if you have a $1000.00 repair and it takes the plumber most of the time to access the leak then it does to actually fix the leak. Chances are most of that money will be reimbursed from the insurance company. As they do cover time to access leak. They will not however cover the actual plumbing repairs.
If you have a plumbing issue call Drain Genie Plumbing Services in Orlando 407-490-1230 and in Sanford at 407-393-0718.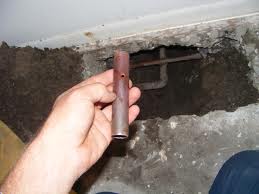 We also service Longwood, Lake Mary, Winter Park, Casselberry, Orlando, Apopka, Maitland, Deltona, Altamonte Springs, Oviedo, Sanford, Winter Springs, Deland, Daytona Beach and all of Central Florida.