Plumbing leaks and Summers in Florida go hand in hand. Do you have an older home? Are you having persistent plumbing leaks? If you are and you think back chances are the leaks where noticed more in the summer time. Why is this? Once June hits our rainy season starts which brings lighting. When lightning strikes close to an older home it can create pinholes in the old copper piping. This can be a big problem and you may not even know it.
Here are somethings to look out for to know if you have a plumbing leak. The obvious is look around your home periodically for wet spots in the lawn or wet areas inside your house. Another big issue is running toilets. But most importantly lookout for a high water bill.  For instance If your bill is high and you see no signs of water chances are your have a plumbing leak under the slab. Most of these types of plumbing leaks (pinhole leaks) come in the summer time from lighting strikes.
So how do you find pinhole leaks under the slab or in hidden or unknown areas? First the plumber will try to isolate the leak if its inside or outside the home. Once its confirmed its under the home leak detection is a must. This service will pinpoint the leak under the slab with in 18″. The plumber will use special equipment and knowledge to find the leak. This is the only way to find exactly where the leak is located. to make the repair.
Good news is if you have a leak under the slab (Slab Leak) most insurance companies cover damages. Depending on your deductible. The insurance company will usually reimburse for Leak Detection, Damage to the property, Water restoration and time to expose leak. In conclusion this summer pay attention to your water bill. If it starts running high you may have a plumbing leak.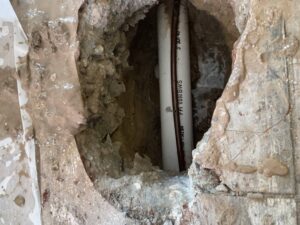 If you need plumbing services call Drain Genie Plumbing Services in Orlando 407-490-1230 in Sanford call 407-393-0718. We also service Longwood, Lake Mary, Winter Park, Casselberry, Orlando, Apopka, Maitland, Deltona, Altamonte Springs, Oviedo, Sanford, Winter Springs, Deland, Daytona Beach and all of Central Florida.