Dishwashers are time savers. Load up the washer, put soap in the dispenser, close the door and turn it on. As simple as that. But did you know that using a dishwasher actually saves water and energy opposed to hand washing? Hand washing not only wastes more water, it also uses more hot water costing more in electric as well. So with saving you time and money we should all take care of our appliances. Here are some things that you can do to make your dishwasher last longer and keep its performance up.
Check rubber seals, if they develop cracks this can cause water leakage and can damage cabinets and floors.
Check the bottom of the dishwasher for food debris. Not only can this cause the dishwasher to not drain well, it can also cause bad odor. So check the screen at the bottom of your unit. This will prevent calling an Orlando plumber for slow or smelly drains.
Keep spray nozzles clean, doing so will keep performance up.
Clean washer once a month with white vinegar. Put 2 cups of white vinegar in the washer and turn it on. This will clean the unit and prevent smells.
Make sure there is a trap formed on the drain hose. Not having a trap on them can allow sewer smell to enter your home from the homes main sewer system. Hire an Orlando plumbing company to install the dishwasher properly.
Checking and doing these things will help your dishwasher provide years of worry free use and keep its performance at peak. If you need a plumber call Drain Genie Plumbing Services at 407-490-1230.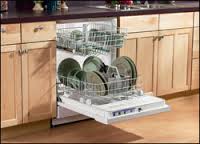 We also service Longwood, Lake Mary, Winter Park, Casselberry, Orlando, Apopka, Maitland, Deltona, Altamonte Springs, Oviedo, Sanford, Winter Springs, Deland, Daytona Beach and all of Central Florida.