We have done a lot of plumbing jobs over the years and our Orlando plumbers have a lot of stories. Plumbing repairs are not always the same. In fact thats the nice thing about service plumbing! Every plumbing repair is not the same. Almost every job is different and has its own set of circumstances. You really have to think and use your head but sometimes even our plumbers are left scratching there head wondering how certain crazy things happen.
One of our recent customers had a sewer line that was constently clogging. We would snake the drain and with in a month or less it would clog again. We decided to video inspect the drain line we found object and dug up drain. Once we cut open the drain line we found the object to be a two by four about 3 feet long. This customer lived in the house for years and never had an issue. But the only way this type of object can get into the drain is during construction of the home.
When snaking lines our Orlando plumbers see all types of nasty things. We have pulled cell phones out of toilets. Customers have called about rings falling down sinks. A lot of our commercial customers have had thieves flush security tags down toilets causing clogs. Our jobs are also very dangerous. We always have to think worst case it could save our lives! Hypodermic needles have been found in toilets and urinals. The worst in my opinion is when everything goes well and you pull the cable back and there is a animal on the cable. This by far is the grossest thing when it comes to plumbing. We have pulled rats out of drain lines mice, frogs and snakes. Plumbing is not a glamorous job but someone has to do it. If you need a plumber give Drain Genie Plumbing Services a call in Orlando 407-490-1230 or Sanford 407-393-0718.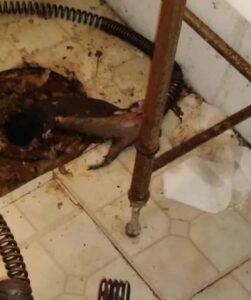 We also service Longwood, Lake Mary, Winter Park, Casselberry, Orlando, Apopka, Maitland, Deltona, Altamonte Springs, Oviedo, Sanford, Winter Springs, Deland, Daytona Beach and all of Central Florida.