Orlando Florida
we have some of the most harsh water in the U.S.A. and there are no basements to access your
plumbing
. Some of the issues
Orlando residents
have is when you get leaks in your plumbing domestic water system. Many
plumbing companies
will try to sell you a
re-pipe
which sometimes is the best case but it all depends on the situation. Lets start by going over some things that will help you decide to re-pipe or not. First, is how many
plumbing leaks
have you had. If you have had 3 or 4 leaks you should start to consider a re-pipe. The cost of fixing the leaks if you have multiple leaks can sometimes add up to the cost of a re-pipe. The second, is if you have a leak under your concrete slab,  to fix these leaks are very expensive.  The cost to leak locate, chip floor, fix pipe and repair the cosmetic damage can easily cost the same or more than a re-pipe and you should think about doing a re-pipe. Now if you have a small leak or a leak that is going to cost $500 or less there is no reason to re-pipe.
Drain Genie Plumbing's
suggestion is to fix the minor leaks but keep track of them if they start to add up, it's time for your plumber to re-pipe your
Orlando FL
home.
The plumbing in
Orlando
fails for a few reasons such as poor installation, low grade copper type m, harsh water, or polybutylene which has been recalled and a lot of Orlando insurance companies will not cover you if you have poly pipe in your Orlando home, they will make you re-pipe. If you decide that you need a re-pipe in your home make sure you hire a licensed
Orlando plumber
. Also make sure they use quality material, there are two types of pipe that can be used, pex and CPVC. We suggest
Zurn pex
it has a better warranty at 25 years and does not get brittle like CPVC. Now some of the questions we get are how do you re-pipe your Orlando home? The pipe under the slab is abandoned and the
plumber
runs the new pex pipe through the attic and down the walls strapping it to the trusses in the attic. The plumber also replaces each and every valve in the system right up to the shower valves.  Also in the process is to cut holes in the wall where each
plumbing
fixture is to properly connect new pipe and strap plumbing in the wall. When the plumber is done the new plumbing system should be pressure tested to 150 psi after the test and the plumbing system is holding pressure. Your Orlando home will have years of problem free plumbing. If you have any plumbing question
contact us
at
407-490-1230.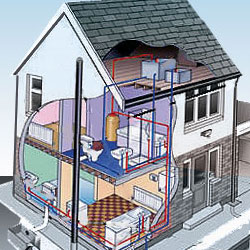 In