First did you know a lot of big box stores are now installing appliances. In addition this makes its very convenient for the consumer. However if your plumbing is not working or to code the installer will not install the units. Because of liability. Leaving you frustrated and having to find a Orlando plumber to make necessary repairs to install appliances.
Second reason for denial for installation is bad shut off valves. This can be a ice maker valve or dishwasher valve. How do you know if they are good or not? simple look at it is it in good condition? no rust? Next try to shut it off and on. Make sure it is in working condition. 
Thirdly and most important is bad pipe or wrong pipe. Because your piping is not to code the installer may not install do to liability issues. If you have gray poly pipe, brittle CPVC, clear PEX or old copper they may not want to install appliances. If you do have clear tubing running to your ice maker or dishwasher. It will have to be replaced. In conclusion the plumber may recommend replacing the ice maker line all together. All above this will help prevent a cracked water line a a major flood damage to your home.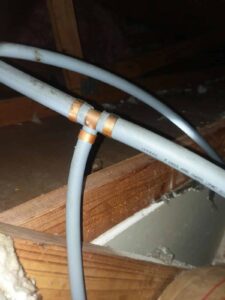 However need plumbing services? Call us in Orlando 407-490-1230 or in Sanford call 407-393-0718. We also service Longwood, Lake Mary, Winter Park, Casselberry, Orlando, Apopka, Maitland, Deltona, Altamonte Springs, Oviedo, Sanford, Winter Springs, Deland, Daytona Beach and all of Central Florida. 

Old appliances breaking down? Are you getting ready to purchase new appliances? If so it is a good idea to check your plumbing make sure it is up to date and working properly. This will prevent you from having a delay in installing and using your new appliances. There are many things to look out for.