So your cooking dinner and go to dispose of some waste in the garbage disposal to find out it is completely broken and not grinding food. Then you look in the cabinet and notice water dripping from the bottom of the disposal. This is a tell tail sign your garbage disposal is shot and needs to be replaced. So, how much should a garbage disposal cost? There are so many options and it can be quite confusing for the average homeowner, but here are some things to look for. 
Make sure your Orlando plumber uses at least a 1/2 horse power disposal. Anything less will not last and does not breakdown the food very well. Usually 1/2 horse power is plenty but if you are a avid cook and use the disposal a lot you might want to invest in a higher horse power. It may cost more in the short term, but in the long term it will last longer.
Do not go dirt cheap. Insinkerator is a great mid range cost disposal. They also make higher end disposals. 
Check the basics and make sure there is a slot under the garbage disposal to allow a plumber or yourself to unjam it. A lot of the cheaper models don't have these and this can cause problems down the road and make a simple garbage disposal repair turn into a replacement.
Those are the main things to look out for when getting a new disposal and for a basic unit and install you should not pay more then $250.00. When you call a local plumbing company make sure they are using quality products and ask questions. If you need to find a great Orlando Plumbing company call Drain Genie Plumbing Services at 407-490-1230.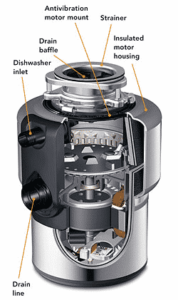 We also service Longwood, Lake Mary, Winter Park, Casselberry, Orlando, Apopka, Maitland, Deltona, Altamonte Springs, Oviedo, Sanford, Winter Springs, Deland, Daytona Beach and all of Central Florida.