Is mobile home plumbing different? Bottom line…yes it is. A lot of plumbing companies in Orlando do not work on mobile home plumbing.  A few reasons will follow. First reason is the pipe and fittings on both the drain lines and water lines are very different. The sizes of the pipe tend to be odd sizes and hard to find. Sometimes the plumber will have to order the parts as they are not always in stock. Mobile Home plumbing also is very hard to access. For example, if there is a plumbing leak in the wall you can not just cut the wall open like a regular home. A mobile home has paneling that is very hard to remove to access leaking piping. This can cause much higher plumbing repair bills. Another big issue with plumbing and mobile homes is access under the home that make repairs difficult and dangerous. The dangers include:
 A lot of these homes are not held to the same standards as regular homes especially older mobile homes. For example, we have seen exposed wiring that was resting on the ground. This causes extreme danger to a plumber working to make a repair. Many times the area we have to work on is extremely wet. Water and electric don't mix. This is a very dangerous work environment.
Critters!  Most animals and pests in Florida don't like the heat and try to find cool environment during the day time hours. We have seen poisonous snakes, rats, mice, raccoons, opossum and poisonous insects. This to is another dangerous work environment.
These are some of the main reasons why plumbing companies in Orlando don't work on mobile homes.  If you need a plumbing company for your mobile home, call Drain Genie Plumbing Services in Orlando 407-490-1230 or Sanford 407-393-0718.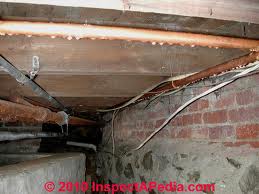 We also service Longwood, Lake Mary, Winter Park, Casselberry, Orlando,Apopka, Maitland, Deltona, Altamonte Springs, Oviedo, Sanford, Winter Springs, Deland, Daytona Beach and all of Central Florida.