What do you do when you have a leaking water heater? A water heater is a big part of our daily lives. Whether it is taking a shower, bath or washing dishes having hot water is a must! So when your hot water heater stops working, it is a big problem. What causes your hot water heater to stop working?  One of the biggest reasons is a leaking water heater. Most heaters last on average 10 years. Some heaters may last longer, some shorter; it just depends on the water condition and the maintenance on the water heater. What should you do in the event you walk into your garage and find water around your water heater. Before you call an Orlando plumbing company, here are some things to check if you have water around your heater.
Check the pipes going into the top of the heater. Make sure there are no visible leaks coming from the piping. If there is, shut down the valve on the right side of the heater. This will shut down hot water main water feed stopping the leak.
Check the T and P valve. This valve is usually on the top in the middle of the hot and cold feed of the heater or on the side. Follow the pipe from the T and P valve because sometimes it is ran outside but sometimes it is not. If it is not, check the pipe and make sure water is not releasing out of the pipe. If you find water coming from pipe, shut valve off to heater.
Feel the water around the leaking water heater. Is it hot or cold? If hot, chances are it is your tank leaking. 
If you find your heater is the issue, shut off valve on top of tank. You then can hook a hose to the bottom drain on the heater. Shut the power off if heater is electric or turn off gas if heater is gas and drain. If you have a leaking water heater call Drain Genie Plumbing Services in Orlando 407-490-1230 or Sanford 407-393-0718.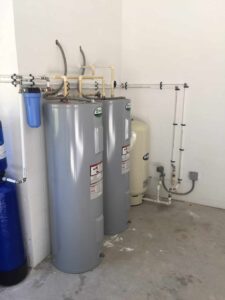 We also service Longwood, Lake Mary, Winter Park, Casselberry, Orlando, Apopka, Maitland, Deltona, Altamonte Springs, Oviedo, Sanford, Winter Springs, Deland, Daytona Beach and all of Central Florida.