Kids are curious by nature and if there's one thing they love, it's water. So it's only natural that they occasionally get into some mischief in the bathroom. Between the toilet, the sink, and the bathtub, there is no limit to the splashing fun to be had! However, as we know, the bathroom is not a playground and kids can quickly turn a good time into a plumbing emergency. Today on the blog, your friends at Drain Genie Plumbing Services are discussing the most common plumbing problems caused by kids and how to prevent them.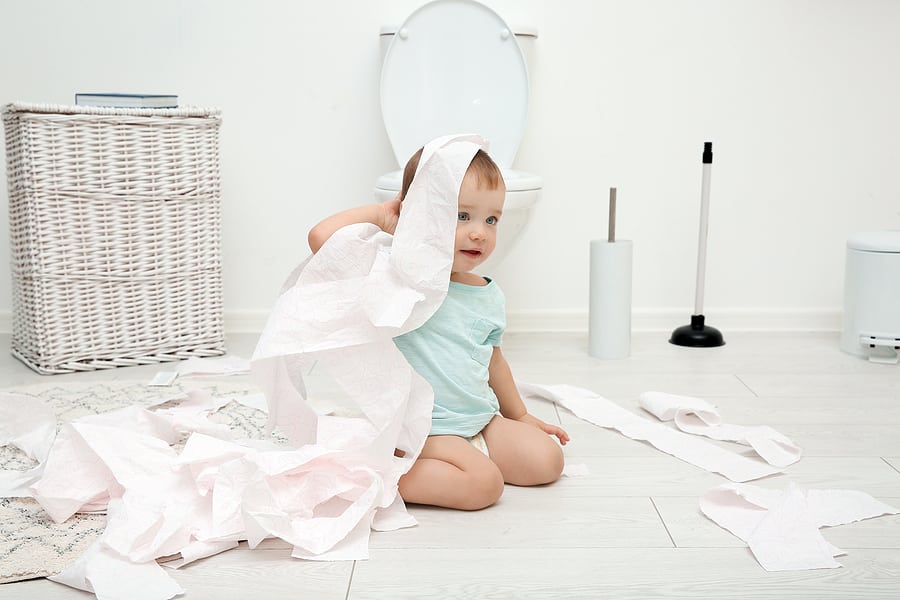 Too Much Toilet Paper
Potty training comes with a lot of adjustments and while there is nothing greater than your kids gaining independence, they don't typically know how much toilet paper to use and they usually err on the side of way too much. Watching the toilet paper unroll and gather in the toilet is a lot of fun for a little one, but when they decide to flush, the problems start. The best way to prevent this is by teaching your children early how much toilet paper to use and to never to use it as a toy. Some parents have had success putting a piece of tape on the wall to show how far to unroll. However, if your kids still put too much in the toilet, it's best to put gloves on and pull out the pile. Never try to force it down!
Toys in the Potty
Another common problem is kids putting toys in the potty. It's easy to see how they might think the toilet is a swimming pool for Barbie; however, if she gets flushed down, she will surely cause a blocked drain. Of course, explain to your children that toys are not meant for the potty. But, if a toy does get flushed, it's important to call a plumber right away. Even if you think the toy went down without a problem, there is a very good chance you could wake up to a flood of toilet water in the coming days.
Overflowing Sinks
Finally, kids love to fill up the sink and splash around, and while most sinks are equipped with an overflow protection feature, it's best not to test it. Your overflow feature might not be efficient enough or your child could block it, causing the sink to overflow all over the floor. Again, it's best to teach your children not to overflow the sink, but if it does happen, soak up the water as quickly as possible to avoid water damage.
At Drain Genie, we understand that accidents happen, so if you find yourself in the middle of any of these plumbing problems, please contact us right away at (407) 287-6082. We serve the Orlando, Florida, area with exceptional plumbing and customer service at an affordable rate.