Toilets are a necessity in our lives so when they are not working well we tend to panic. There are many reasons a toilet is not working properly. It can be that a object was flushed down the drain or a broken pipe. But it can also be as minor as adjusting the water level in the back tank and adjusting the toilet flapper.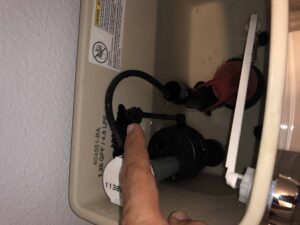 Here are some steps to adjust the level in the toilet. If you have a newer fill valve like the above picture water adjustment is easy. Where my finger is pointing there is a spot to put a Phillips screwdriver and twist. Sometimes you don't need to use a screwdriver you can just spin it with your fingers. As you spin it the float will move up or down depending on which way you spin it.
If the float moves up the water level will rise in the toilet tank. If you adjust the float down the water will lower in the tank. The best adjustment should be when the water level is about 3/4 of an inch below the center overflow tube. If the water level is to low you will not get a good flush for instance and have constant clogs. If however it is set to high water can spill over the center overflow tube and waste water causing your water bill to be high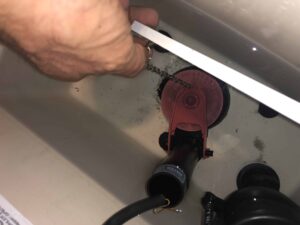 Having a good toilet flapper and adjustment of the chain is critical. If the chain is to short it will not allow the flapper to seal properly therefore it will cause the water level to drop and toilet will constantly fill up. Even when there is no one using it! However if the chain is to long it won't allow the flapper to lift up enough causing a poor flush. In conclusion the chain should be snug with just a light amount of slack. 
Need plumbing services call Drain Genie Plumbing in Sanford 407-393-0718 in Orlando 407-490-1230. We also service Longwood, Lake Mary, Winter Park, Casselberry, Orlando, Apopka, Maitland, Deltona, Altamonte Springs, Oviedo, Sanford, Winter Springs, Deland, Daytona Beach and all of Central Florida.
.