Many customers want free plumbing estimates. While most times, this is no problem sometimes it can't happen. If you have ever had a leaking water heater or a bad garbage disposal and called a company for a plumbing estimate chances are you are able to get one. Jobs like this are very easy to quote over the phone and give free plumbing estimates. However, many times people call with a hidden leak or a job that needs investigation to diagnose the issue. It is very hard to give free estimates for jobs like this. 
Why is this do you ask? Well have you ever had a issue that you have to go to the doctor for tests to diagnose an issue and find out the diagnoses of what is wrong? They expect payment and charge you for these services. The same goes for a plumbing contractor. For example, you have a leak but you have no idea where it is coming from. In this situation, the plumber has to do a leak detection test. This requires time and equipment regardless of whether the plumber subs out the leak detection work or has the equipment to do it himself. This is a service that takes time, special equipment and training to locate exactly where the issue is. Then and only then, can the plumber give you a estimate for the actual plumbing repair.
This is only one of the most common examples of a job that is impossible to get a free plumbing estimate. However, the leak detection service can be quoted over the phone in most cases. Anytime you have to take time and equipment to figure out a issue there is always a charge. Most plumbing repair prices can be given upfront even over the phone just not all. If you need plumbing repairs call Drain Genie Plumbing Services in Orlando at 407-490-1230 or Sanford at 407-393-0718.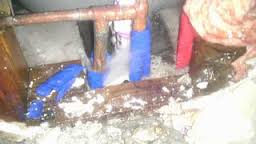 We also service Longwood, Lake Mary, Winter Park, Casselberry, Orlando, Apopka, Maitland, Deltona, Altamonte Springs, Oviedo, Sanford, Winter Springs, Deland, Daytona Beach and all of Central Florida.