Deltona plumbers
that come into your home and take two minutes to tighten a loose nut and charge an arm and a leg when they are done. While every plumber in Deltona is by no means a con artist, the sad fact is that there is a shortage of skilled plumbing professionals. This has left the plumbing market wide open to untrustworthy people and has really damaged the plumbing trade name. Here are some tips to find a good plumber in
Deltona
and
Orlando Areas
.
Recommendations:  It goes without saying that usually the best choice is a plumber that comes recommended but you should ask what the plumber did and how long ago they use them. Sometimes friends can be eager to help and may refer a plumber that they have never used or maybe they just know the person, but never actually used them. Also you can get recommendations that are from actual customers on quality review sites such as Customer Lobby.
Check Them Out: Don't just trust the recommendation. You should check them out to see if they are part of a local organization such as the Deltona BBB. You want to be somewhat assured that they have been in business for a while and had proper plumbing training along with experience.
Ask Questions: Don't be afraid to ask questions. You're not a plumber or you would not be looking to hire an Orlando plumber. Most plumbers know this and don't mind answering customers questions. If the answers are vague or if they're not very polite, this is a red flag. You should hire someone that is personable not miserable. Ask them about their experience in fixing your particular Deltona plumbing problem and what will need to be done to fix the problem. A good plumber will have no problem explaining things to their customers.
Pricing: Always get a plumbing estimate before work begins, although some plumbing jobs are hard to give an exact estimate and they need to be charged on an hourly basis. However, most common plumbing jobs can be estimated before the work starts. If a plumber in the Orlando area won't tell you a price, even if it is just a price range, then this is a red flag.
There are many factors in choosing a
plumber
in
Orlando
and
Deltona
. Sometimes people call and get estimates and then go with the cheapest plumber but this is not a good idea and sometimes the cheapest price is not the best deal. If you call cheap plumbers they will tend to do work that is not of the best quality and if you have problems with their work you will most likely not be able to reach them to fix problem. Also make sure the plumbers clean up after themselves. Another positive quality that a plumber should have is going back to double check their completed work. We at
Drain Genie Plumbing
really strive for this and tell all our plumbers don't rush and check 3 or more times. There have been many times that I have checked the plumbing repair for the third time before I leave and found a small leak that took time to notice. No plumber is perfect but when you double and triple check your
plumbing repairs
you cut down on call backs and this should be the standard for whatever
Orlando
or
Deltona plumber
you choose! Drain Genie Plumbing serves
Sanford
,
Lake Mary
,
Oviedo
,
Casselberry
,
Winter Park
,
Longwood
,
Winter Springs
,
Altamonte Springs
,
Maitland
and all of Central
Florida
.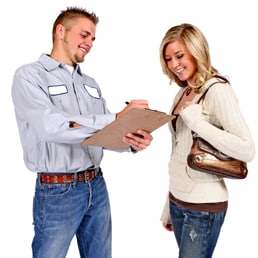 We all have heard stories of bad