Having a persistent drain cleaning issue in the Orlando central Florida area? The cheapest solution is getting to the root of the problem. For example, if you have a drain line that is constantly backing up, it can be very frustrating and expensive to have an Orlando plumber come out constantly. You really don't know the next time a clogged drain can happen. It can be Monday through Friday, or it can be midnight on a holiday or weekend. So when do you know you have a drain that needs to get repaired or investigated? Here are some scenarios:
If you have a plumber snake your drain and he pulls back roots, this is a tell tale sign that your drain line is broken.
You have your drain snaked and the plumber is having trouble and his line is getting stuck.
Or you are having to snake your drain often and the plumbing company is not really pulling anything back.
These are all very important clues that you need to investigate your drain line and get to the root of the problem. So what is the next step in a case like this? Simple, hire a plumbing contractor that has a camera and can look inside your drainage system and locate what is causing the constant drain cleaning issues. This process works by inspecting with a camera. Once the problem is located the plumber can locate the area with special tools and tell you where the problem is and the cost to dig it up and make the plumbing repair. If you need to have your constant drain line nightmare fixed, call Drain Genie Plumbing Services at 407-490-1230.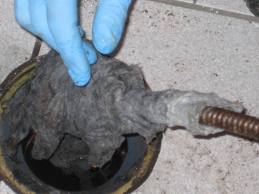 We also service Longwood, Lake Mary, Winter Park, Casselberry, Orlando, Apopka, Maitland, Deltona, Altamonte Springs, Oviedo, Sanford, Winter Springs, Deland, Daytona Beach and all of Central Florida.