plumbing products
that we see our do-it-yourself customers use to repair
plumbing leaks
. We have seen just about everything with customers not knowing little things about making a plumbing repair and causing more of a problem because they used the wrong product. The worst part is that some customers do everything right except one minor thing and this causes hours of wasted labor and sometimes worse they have to call a
Deltona plumber
after all their hard work. So lets go over the most common misused  plumbing products:
Plumbers putty is by far the most common misused Deltona plumbing product. We see it on pipe threads to p-traps. Plumbers putty should only be used on something that is going to be mounted to a plumbing fixture such as a faucet to a sink or more commonly a basket strainer to a sink. Now the only time that you should not use putty on these things is if it is corain sinks or granite type of sinks.  The oils from the putty will stain and you should use a special plumbers putty for that as it does not have the oils in it.
The second most commonly misused plumbing product is caulk we have seen this used on everything from sealing pipe threads to customers trying to seal plumbing leaks. Caulk should only be applied to something to seal from water intrusion and not to be used on anything pressurized such as sealing around a newly installed sink. The caulk should be applied where the sink and the counter top meet. You can also use caulk on sealing openings around your shower controls.
These are the top to Deltona plumbing products misused. If you are in Central Florida and have any questions about plumbing repairs, please give us a call. We have no problem explaining how to do something and if you can't handle it, we will gladly be your plumber on call. You can reach us at
(386) 742-1750
.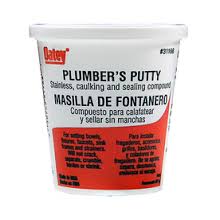 We also serve Casselberry, Altamonte Springs, Lake Mary, Longwood, Apopka, Maitland, 

Orlando

, Winter Park, Oviedo, Sanford, Winter Springs,  and all of 

Central Florida

.

We are going to go over the most commonly misused