Plumbing leaks can happen at any time. They can be hidden (under slab or in walls) or exposed (under sinks or exposed piping). Believe it or not the most common plumbing leaks are things you use everyday. Here are some of the most common plumbing leaks in order from most common the least common. 
Toilet leaks: Toilet leaks are probably the most common plumbing leak. Having a toilet leak can cause water bills to skyrocket. A leaking flapper can cause significant water waste. Other common areas that a toilet will leak is the supply line, fill valve, and wax ring. If you notice a high water bill, check your toilet first. Make sure the flapper is securely sealing the water between the tank and the toilet bowl. You can even try putting dye in the toilet tank and come back and check. The dye should not make it to the bowl. If it does then you have a bad flapper.
Faucets:  Leaking faucets are another common plumbing leak. A leaking faucet can be anything from a bad cartridge to a faucet replacement. Some of the most common faucet problems are bad cartridges, seats and stems. Having a bad cartridge or seat or stem will cause you to have a drippy faucet. Leaks from underneath your faucet mean that more than likely you have to replace the faucet. If you have a leaky faucet it's best to call an Orlando plumber and get it repaired not only does it save on your water bill but fixing it sooner than later can mean the difference of replacing or repairing the faucet.
Leaking Shower Heads:   Leaking shower heads are another common issue. But a leaking shower head is usually not because the shower head is leaking. Don't replace just the showerhead. This will not fix your leak. Most drippy shower heads are due to a bad shower cartridge. If the shower cartridge is bad it will not be able to shut the water off all the way causing it to drip.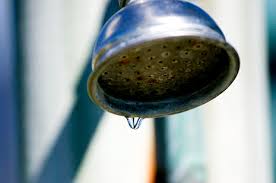 Plumbing leaks can be frustrating. If you have a plumbing leak and need assistance call Drain Genie Plumbing Services at 407-490-1230.
We also service Longwood, Lake Mary, Winter Park, Casselberry, Orlando, Apopka, Maitland, Deltona, Altamonte Springs, Oviedo, Sanford, Winter Springs, Deland, Daytona Beach and all of Central Florida.