Some common Orlando plumbing terms most customers don't know.  Your homes plumbing system consists of hundreds of parts and components from drain lines to water lines.  We will go over a common plumbing term that, as a home owner, we think you should know so in the event you need to call an Orlando plumber, you can understand what their "jargon". Today we will go over a p-trap.
P-Trap   A p-trap's main function is to prevent sewer gas from entering your home.  What is sewer gas?

Sewer 

gas

 is a complex mixture of toxic and nontoxic 

gases

 produced and collected in sewage systems by the decomposition of organic household or industrial wastes, typical components of sewage.  Sewer 

gases

 may include hydrogen sulfide, ammonia, 

methane

, esters, carbon monoxide, sulfur dioxide and nitrogen oxides.  In other words, you don't want it in your home.  P-Traps create a seal that prevent these gases from entering your home.  Every plumbing fixture in your home is required to have a p-trap. Where are these located?  Well, it just depends on which plumbing fixture you were talking about.  For example, sink p-traps are located underneath the cabinet.  P-traps are built in the actual toilet.  The laundry p-trap is usually located below the box in the wall. Shower and tub ones are usually located below the slab.  Every fixture that has a drain is required, by code, to have a p-trap.  These traps work well in keeping out sewer gas and smell. One thing that you should 

remember is the traps' purpose is to create a seal using water.  But what happens if you have a sink, bathroom or plumbing fixture you don't use often? Well, the water will evaporate and break the seal which will then allow sewer gas to enter into your home causing smell. A simple fix is to just run water periodically to keep the trap primed and prevent a smelly situation.
Everyday plumbing terms are good for customers to know and understand the basics. Today we touched on p-traps. Our next discussion will be venting and its purpose. If you need plumbing service give Drain Genie Plumbing Services a call at 407-490-1230.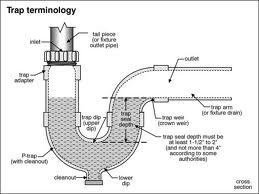 We also service Longwood, Lake Mary, Winter Park, Casselberry, Orlando, Apopka, Maitland, Deltona, Altamonte Springs, Oviedo, Sanford, Winter Springs, Deland, Daytona Beach and all of Central Florida.