Last time we went over the plumbing term P-trap and what the P-Trap does. Today, we will go over your homes plumbing venting system and what it's purpose is and why it's important to know. There are many of our customers that have no clue on what a plumbing vent is and its purpose. There are a few things that a vent does. The most important thing is it equalizes the pressure inside the plumbing drainage system. Why is this important? Well, lets look at the functions of plumbing venting. The plumbing drain won't flow properly if it has trouble pushing the air in the pipe out of the way. Vents provide a path for air to escape the drain line. The plumbing system also won't drain well if it's held back by low air or a vacuum in the drain behind it. Vents allow air to be allowed into the waste pipes.
Vents also protect P-traps. The purpose of the trap was discussed last week and the venting system allows the traps water not to be siphoned out of the trap by allowing air into the system which breaks the suction. Without venting, sewer gases will build up in the sewer line and work it's way through the P-traps causing bad odor in your home. Every fixture in the home is required to have a vent to allow proper air into lines. Most vents will terminate through the roof, but not all the time. It just depends on the Orlando plumber. Many plumbers will re-vent or tie vents together and minimize roof penetrations. Some of the newer homes have air admittance valves which allow air to flow into the system, but not out. Every vent that terminates through the roof is attached to the drainage system below. This is why if you have a clogged drain and the plumber can't find a clean out he will get on the roof and snake it. Many customers don't understand why a plumber has to get on the roof if the drain is clogged below. If you need a Orlando plumbing company call Drain Genie Plumbing Services at 407-490-1230.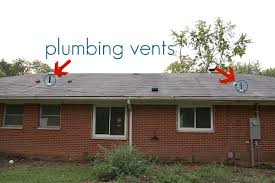 We also service Longwood, Lake Mary, Winter Park, Casselberry, Orlando, Apopka, Maitland, Deltona, Altamonte Springs, Oviedo, Sanford, Winter Springs, Deland, Daytona Beach and all of Central Florida.