We are coming up on the holidays Halloween, Thanksgiving and Christmas. Around this time of year we get a lot of calls for clogged drains. Most of the issues we see is just over use of the drainage system and not being carful of what is going down the drains. People dump everything down the drain from pumpkin guts to grease. The holiday season is a stressful time! What can make it more stressful? clogged drains such as kitchen sinks or sewer lines can put a damper on your day. 
The best way to solve this problem is to be conscious of what goes down the drain. Once debris like grease and food go down the drain its best to call a Orlando plumber. Adding chemicals to try to clear the drain can make things worse damaging your pipes. The most common method of fixing a clogged drain is snaking. The problem with snaking is it will punch a hole through the grease leaving build up on the wall of the pipe. This can be a problem because after awhile the grease will separate from the wall of the pipe and fall and cause another clog.
The best and most efficient way for cleaning drains with grease or food debris is to jet or Hydro jet. This process uses high pressure water to blast the clog and debris from the pipe. This will leave your pipe fully clean and restored to new and your drains flowing freely again. The only time this does not work is if the line is old and damaged already then the jetting will reveal the underling damage to the pipe and you may have to replace a section of pipe.
In conclusion it is really best to be proactive. Because Getting grease and debris down your drain will cost you big time. Take the extra time to dump food waste in trash and dispose of grease properly. It may take a few extra minutes to do but will save you hundreds in plumbing repairs.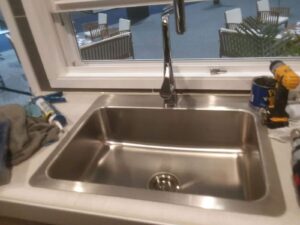 Need plumbing services call us in Orlando 407-490-1230 or in Sanford call 407-393-0718. We also service Longwood, Lake Mary, Winter Park, Casselberry, Orlando, Apopka, Maitland, Deltona, Altamonte Springs, Oviedo, Sanford, Winter Springs, Deland, Daytona Beach and all of Central Florida.