Do you have a clogged drain? This can be a sign that your pipes are failing or even broken. The first step when you have a clog is to call a plumber and have the drain snaked. This will fix 90% of issues in the drainage system (usually just a clog). There are other times that the issue is more involved. This can be because pipes are old and rusting or can be that the pipe is broken. 
Old cast iron pipe has a tendency to rust and get very thin at the bottom of the pipe and fittings. Water tends to erode the bottom of the pipe and fittings. This can cause sewage leaks and clogs. If the bottom of the pipe or fittings are missing this can cause the snake to catch and break the pipe. It can also cause the equipment to get stuck. Broken PVC pipe is another issue with drains. If PVC is installed correctly there is usually no issues. However if not installed properly or damaged after the install this can cause plumbing issues down the road. The most obvious sign that you have a bigger problem is reoccurring clogged drains. 
Snaking a drain is completely safe because cables are flexible and bend and flow with the drainage system. Sewer cables are meant and designed to go into the drainage system without damaging it. However if you have issues such as a broken or a compromised drain the snake can get stuck and break the pipe. If this happens the plumber did not cause the issue or brake the drain with the snake. It is only showing what the underlying problem is and why the drain is clogging. Drain cleaning is the first step to figuring out what is causing constant clogs. Most all the time it is just a clogged drain. However you do not know but you have to start somewhere to figure out the plumbing problem and what the root cause is.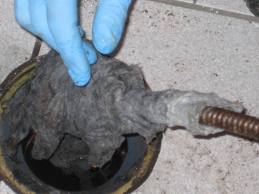 Need plumbing services call Drain Genie Plumbing in Sanford 407-393-0718 in Orlando 407-490-1230. We also service Longwood, Lake Mary, Winter Park, Casselberry, Orlando, Apopka, Maitland, Deltona, Altamonte Springs, Oviedo, Sanford, Winter Springs, Deland, Daytona Beach and all of Central Florida.