If you are a homeowner chances are you will have a plumbing issue with your home eventually. Whether it's a clogged drain or leaking pipe plumbing issues are inevitable. The average person does not know about their plumbing system and how it operates. So what is a plumbing vent?  How do they operate? Can they clog?
The Plumbing Vent:    Is a pipe that extends 6″-8″ through the roof. It can be a mechanical Device that is placed underneath your sinks called an air admittance valve. How the vent works is by regulating the air pressure in your drainage system. This helps with keeping your drains flowing freely. Have you ever placed your finger over a straw? The water gets trapped in the straw. When you release your finger the water flows freely. It works the same way in your plumbing system.
Can Plumbing Vents Get Clogged:  yes vents can get clogged causing drains to flow sluggish. How can a vent on the roof get clogged? There are many ways, vents can clog from tree debris, animals and broken vent pipes. If this happens you may hear sounds coming from your drains like bubbling or your drains may get sluggish. This is a sign you have a plumbing vent that is clogged. If you have a mechanical vent (air admittance valve) these can also go bad and may need to be replaced.
How To Fix A Clogged Vent:  Having a plumbing company come out and get on the roof and run a snake down the vent is the only way to clear clogged vents. 
 Do you need a plumber in the Orlando area call 407-490-1230 Or Sanford area call 407-393-0717.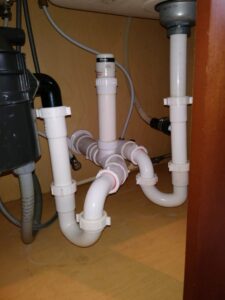 We also service Longwood, Lake Mary, Winter Park, Casselberry, Orlando, Apopka, Maitland, Deltona, Altamonte Springs, Oviedo, Sanford, Winter Springs, Deland, Daytona Beach and all of Central Florida.