Buying, updating, or repairing a plumbing fixture? Most people think that they can go to any big box store and just purchase any name brand parts or fixtures to work with the plumbing they have in their homes. This is far from the case. We run into this a lot; a customer has parts, but they are the wrong parts. So, today we will go over the do's and don'ts if you are updating or repairing a plumbing fixture.
Updating A Plumbing Fixture :  If you are totally replacing a fixture, it really does not matter what the name brand is, because it is a complete replacement. However, if you are updating the tub and shower trim and not the actual valve, you need to find out who the manufacture is and what the model is. You cannot put a Moen trim kit on a Delta shower valve. We see it all the time. A customer buys different manufacturer trim and it will not work.  So, if it is a toilet, sink, faucet, shower valve or any other fixture that you are replacing, your choices are not limited. However, you should stay away from cheap plumbing fixtures. Although it will save you money in the short term, in the long term it will be a costly mistake. You will be constantly calling an Orlando plumbing company to fix issues and the parts will be hard to find, costing you a lot more in the long run and having more down time due to the plumber having to track down and order the parts.
Repairing A Plumbing Fixture :  If you are repairing a fixture, you definitely need to know the make and model of the plumbing fixture. For example:
Toilet: Need to know the make and model. For example, if it is a Kohler, that would be the make and Kohler has many different models. Most models require different parts. You can find the model inside the toilet tank on the back or on the inside of the lid.
Shower cartridge: Need to know the make and model. For example, Moen would be the make. They have a few models: Posi-temp and 1225B model.
Kitchen and bathroom faucets: Same as above. Tou need to know the model and make.
There are hundreds of makes and thousands of models of faucets, sinks, and toilets. You cannot just get any part and expect it to work. Sometimes it's just best to call an Orlando plumber to make the repairs. If you need a plumber in Orlando, call Drain Genie Plumbing Services in Orlando at 407-490-1230 or in Sanford 407-393-0717.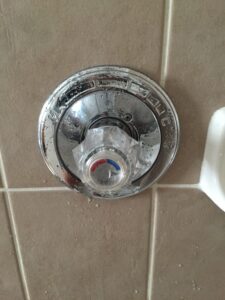 We also service Longwood, Lake Mary, Winter Park, Casselberry, Orlando, Apopka, Maitland, Deltona, Altamonte Springs, Oviedo, Sanford, Winter Springs, Deland, Daytona Beach and all of Central Florida.