Are you being charged too much for your Orlando repipe ? There are a lot of plumbing companies in Orlando that are over charging customers for a plumbing repipe, or telling the customer they need a repipe instead of a simple plumbing repair. Here is the rule of thumb we like to go by to determine if you need a repipe. If the plumbing leak is above the concrete slab, repair it. If you have multiple leaks and they start adding up, we suggest thinking about a repipe. If the leak is below the slab, we suggest repiping. 
So, in the event that you decide to repipe your home, how much is too much for a repipe? The average price for a two bath home should be in the range of $2,200-2,700. There are companies that are charging $4,000-5,000 to repipe a small home. This is way over priced. Most reputable Orlando Plumbing companies charge about $100-125 per drop and a small two bath usually consists of 20-23 drops. How repipes are usually calculated is the number of drops multiplied by the price per drop. For example, a toilet is one drop, faucet is two, since you have one drop for the hot and one for the cold hose connections. Make sure you find out what your Orlando plumber is charging you per drop, and we also suggest getting multiple estimates. There are many good plumbing companies in Orlando, but there are also many bad ones. Get quotes and compare prices and the types of material they are using. You don't want to use cheap material for repiping your home. If you need a plumber or have questions about a repipe, give Drain Genie Plumbing Services a call at 407-490-1230. Many times we can give a accurate price over the phone for repipes.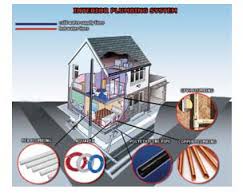 We also service Longwood, Lake Mary, Winter Park, Casselberry, Orlando, Apopka, Maitland, Deltona, Altamonte Springs, Oviedo, Sanford, Winter Springs, and all of Central Florida.