Altamonte Springs
home and many people have a lot of questions about their
Altamonte Springs water heater
. We are going to go over a few things that pertain to your hot water heater. First is did you know that your Altamonte Springs water heater costs roughly 18% of your electric bill. There are really only a few ways to lower your energy cost and they are following:
use less hot water

turn down the thermostat on your water heater
As for turning down the thermostat on your Altamonte Springs water heater for every 10 degrees that you lower it you tend to save about 3% – 5%. If you lower it the lower the temperature the less your hot water will last for the simple reason that if you have warm water coming out of the hot side you will use less cold water mixing in which means you will use more hot water causing it to empty  the tank quicker. For one person this is fine but if you have multiple people in the house you will not have enough hot water. If you lower the thermostat on the water heater bacteria can grow so you should increase the water temperature to 140 once a month for 4 hours to kill bacteria. Did you know that washing your clothes in cold water saves $161 a year with
electric water heaters
and $67 with gas? Also timers really don't save that much money as the heat loss from a
water heater
on stand by is very minimum and usually gets used before it needs to heat up. Additionally, water heater blankets don't save much but they are cheap and will pay for itself but but dont expect huge savings on your bill. Overall the best savings is to just find ways to be able to use less hot water and you then will see your electric bill will decrease. If you need an
Altamonte Springs plumber
give us a call at
407-393-0717
. We are
Altamonte Springs #1 plumbing company
.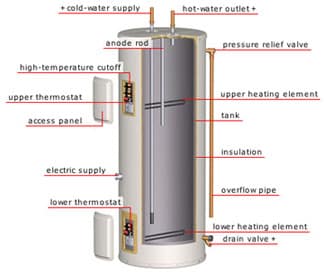 We also serve 

Orlando

, Casselberry, Lake Mary, Longwood, Apopka, Maitland, Deltona, Winter Park, Oviedo, Sanford, Winter Springs,  and all of 

Central Florida

.

Hot water is an important thing to have in your